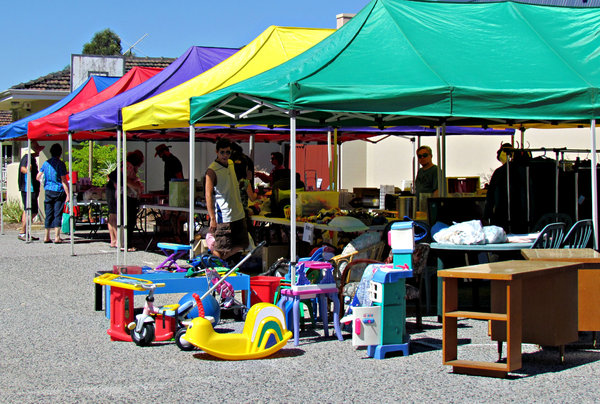 As we start to look forward to cooler weather here in Central Texas, we will
begin to see another season of garage sale shopping. With the kids back in school, it's the perfect time to clean out closets as new back to school clothes take up
space.
If you are taking advantage of the cooler season to have your sale, here are 24 great tips to get you started toward sale success.
A week or two before:
The majority of sale success is in the prepping.
1. Set up tables in the garage and start putting out
sale items.
2. Make sure all clothing and toys are clean. Taking
the time to wash items will help it sell quickly for
top dollar.
3. Hang nicer clothes; fold other clothes in like groups
with clothing sizes marked.
4. Group like things together on tables and put small things (like utensils) in a box that can be sold at the same price.
5. Put books in boxes with spines facing upward for reading titles easily.
6. Bag all accessory pieces and pull any owner's manuals for sale items.
Day before: Finish arranging and pricing items.
7. Keep pricing fair; shoppers want a bargain. A general rule is 50-30-10: new, unused items at 50% of retail,
slightly used at 30% of retail and used items at 10% of retail.
8. Have visible price tags. Use pre-printed price tags or color coded stickers.
9. Arrange folded clothes in groups; price in groups and use one sign for prices. For instance, sell all shorts $3.00,
all T-shirts $2.00. Nice ones will sell first; the rest can be marked ½ price at the end of the sale.
10. Display valuable items near the back of the garage where you can see them.
11. If there are other items stored in the garage, cover them with sheets so you are not constantly answering
the question: "Is that for sale?"
12. Kids like to shop sales too. Put all kids' items together and at their level.
13. Make it easy to walk around tables. Have an easy enter and exit of the garage.
14. Pre-advertise. Let neighbors know what you have. List furniture and big ticket items on Craigslist.
15. Make sure you have at least $50 in change, especially fives, ones and quarters (if you have anything priced
less than $1.00).
Day of the sale: Be prepared to sell, sell, sell!
16. Put balloons or flags out front to attract passersby.
17. Display big, hot-ticket items in the driveway with large price tags to be seen from the street.
18. Be ready for early birds. If you decide to let one person come in early for a peek, expect more to follow.
Open early or just wait until you are ready.
19. Wear a vendor apron instead of using a cash box so cash is never left unattended.
20. Have a helper. Most people are still honest, but several people in a garage at one time can distract you
from watching items or helping someone.
21. Use plastic grocery bags for sold items; have newspaper handy for wrapping glass.
22. Offer to plug electrical items in a garage outlet to show that they work. Have partially used batteries
on hand for testing toys.
23. Reorganize and regroup items throughout the day. Remove empty tables instead of scattering few items
across many tables. Full tables are more attractive.
24. Welcome customers as they arrive. Let them look and be available for questions.
Keep in mind:
Most shoppers are scanners and are not "diggers." Just as a retail store, a neat and organized sale will sell the most. Don't over price thinking that shoppers will bargain. A few shoppers will haggle, but most will just walk away if a price is too high. However, don't feel you have to let your items go cheap right away. Save rock bottom offers for the end of the sale.