Homeschooling: Free Science Magazines
Note: The links in this post were updated in February 2020.
For those of us who struggle with homeschooling science, here are two fantastic support products to incorporate into your homeschool. And they are free!
First,
Apologetics Press
, offers a monthly children's magazine called
"Discovery,"
focusing on Scripture and science for kids in grades 3 through 6. This eight-page periodical contains lessons from Bible to nature, teaching kids about God's Word. Activities such as word searches and puzzles reinforce the lessons.
A printed monthly subscription to Discovery
is available at a reasonable cost; however, a PDF of their magazine is also available for FREE on their website. To see the latest issue, click
HERE
. You can read the issue online or go to the menu at the top to download a PDF copy of that month's issue.
For high school students, APs banner publication,
"Reason and Revelation"
covers topics such as God's existence, the inspiration of the Bible, the creation/evolution controversy, the deity of Christ, ethics, the culture war, and more. This periodical is also
available in a print subscription
or you can
download a FREE PDF of the magazine
that can be read offline.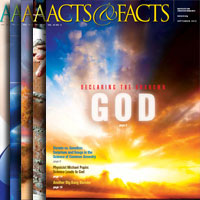 Another magazine for high school students is "
Acts & Facts,"
a
FREE printed publication
available from the
Institute of Creation Research
and is appropriate for your high school student. This monthly news magazine contains articles and information of current interest dealing with creation, evolution, astronomy and related topics.
Current and past issues are available to read online,
but to sign up for a free printed subscription, you can go
HERE
.
Both of these organizations have many other materials and resources. Be sure to peruse through their websites and sign up for email updates to be notified of when new issues of their magazines are online.